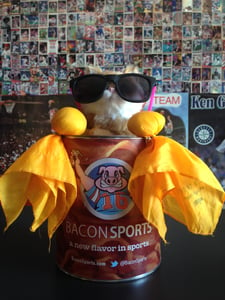 $

10.00
Flag It Tag it is an interactive penalty flag game where you call out people for doing dumb stuff in everyday life. The game is simple:
Step 1: Get a penalty flag.
Step 2: Flag anyone who does something stupid or deserves to be called out.
Step 3: Share a picture or video and use #FlagItTagIt.
Football players aren't the only ones who deserve to be flagged. Friends, family, co-workers, as well as people or companies who give you crappy service all should be called out.
Flaggable offenses include:
* Tucked in jersey guy
* Dead fish handshake
* Parking like an idiot
* Guy who goes dutch on a first date
* Spilling a drink on someone at a bar
* Boyfriend who deletes girlfriends Watch What Happens Live series recoding so he can watch SportsCenter for the third time
* Drinking a Summer Shandy in November
The possibilities are really endless!
Because of post office shipping costs we sell these in lots of three (so you'll get three penalty flags with your order). Plus, this game is more fun to play when friends have the ability to flag you and others too!
So what are you waiting for, Add them to your Cart and get Flagging and Tagging!